Product Description
Key Features:



Corning Gorilla glass




Smooth touch screen performance




High-impact ballistic bezels




9mm patent-pending Impact TrussWater + dust resistant membranes




Sealed audio & charging portsSecure screw closure




Direct access to all iPhone's ports & features




Ringer silencer switch



Frequently Asked Questions:
Q: Will my Touch sensor and Screen work after putting this Case?
A: Of course! Its designed keeping in mind, that the functionality of the phone, no way gets affected.
Q: Will my Volume get affected after putting this case?
A: There will a little reduction of volume because the whole point of the case is to cover all the open sides and protect your phone.
Q: My Volume Button and Lock Buttons have become hard, Why?
A: The case has been designed keeping in mind it survives a good fall, Our silicon grading makes sure of that, however, because of that, buttons can be a little hard.
Q: Will TAKTIK 5 work with other 3rd party accessories or fit into existing docks?
A: Yes, the TAKTIK 5 will work with most third party accessories.
Q. Is this Product a part of Lunatik?
A. No. this has been custom made according to our specifictions.
Q: Is the case water proof?
A: While we've designed TAKTIK to be dust, impact and water resistant, TAKTIK is not waterproof. The case is not fully enclosed and not meant to be submerged in water. That being said, it will protect against limited exposure to rain, water spray and possibly an accidental drop in the toilet or a puddle.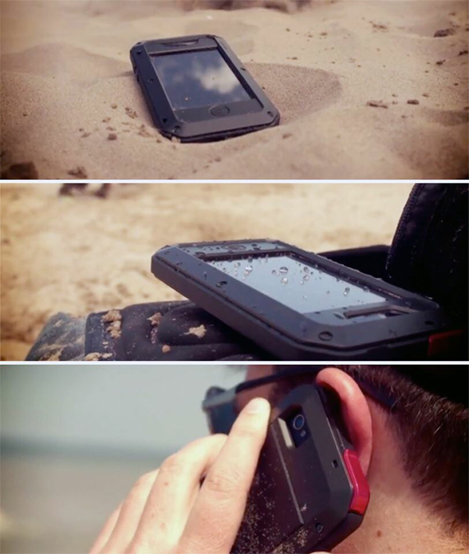 Q: What does shockproof mean?
A: The term shockproof refers to TAKTIK's ability to absorb and withstand impact shock through the 9mm Silicone Impact Truss design when dropped. The high impact bezels and Gorilla Glass also offer an additional layer of impact protection in the same way a helmet is designed.
Q: The rear bezel flash/camera/Charging inserts on my TAKTIK appear to be flipped. Will this affect the ultra-protective features or functionality of my phone?
A: No. A quantity of our TAKTIK Extreme rear bezels were manufactured with the flash/camera insert holes flipped but this will not affect the ultra-protective design of the case, nor the functionality of the phone, including the camera or flash.
Q: Can I charge my phone, adjust volume, use my headphones, take a picture and hear the speakerphone with the case on?
A: Yes! We've maintained access to all ports and controls as per Apple Case Design Guidelines. All Apple accessories will work with TAKTIK and we've also tested some 3rd party accessories.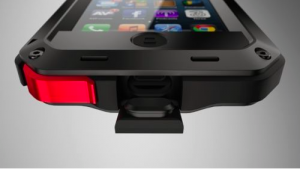 Q: What headphones and 3.5 devices will the TAKTIK case accommodate?
A: The 3.5 HSJ port is compatible for headphones with at least 22 mm standoff (vertical height before any bend or increase in jack diameter). While we haven't tested all headphones and 3.5 devices.
Q: What is the size and weight of the TAKTIK EXTREME case?
A: The dimensions are 142mm x 76mm x 16mm and size does matter. (Little Bigger for iPhone 6/6plus). The Silicone Impact Truss around the perimeter of the iPhone is critical for protection. This truss is exposed and designed to compress. However, in order to maintain usability, the design of the impact bezels are tapered for a more ergonomic feel and easier insertion into pockets. The TAKTIK is comparable in thickness to other ultimate protection cases on the market. The weight of the of high impact polymer case with Corning Gorilla glass is:
iPhone 5/5s – 150grams.
iPhone 6 – 210 grams.
iPhone 6 Plus – 230 grams.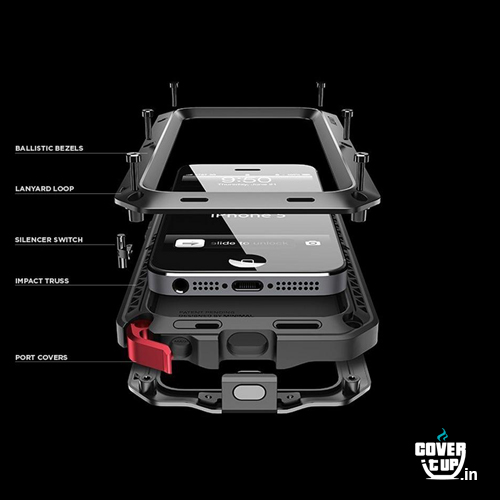 Q: Will TAKTIK's Gorilla Glass lens crack or shatter?
A: Gorilla Glass is the hardest, thinnest, most durable glass that the iPhone uses for its display and we've doubled down with an added layer of protection on our case. We've done extensive testing and our Gorilla Glass case is a tank, built to withstand even the toughest drops and falls. That being said, it is not shatterproof. And while we've had customers tell us their case remained in tact after accidentally falling off their motorcycle going 50MPH, we don't recommend trying this at home.